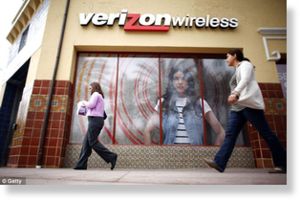 The National Security Agency is collecting telephone records for millions of Americans without informing the individuals involved, it was revealed late on Wednesday night.
A copy of a secret order to obtain phone records for all Verizon customers was obtained, showing that the NSA was monitoring all incoming and outgoing calls made on that network.
The backlash will not stop with the millions of Americans who are Verizon customers, as there is no way of knowing if other phone companies have had the same clandestine order placed upon them as well.
The Guardian
obtained a copy of the order that forces the phone company to hand over records of phone calls starting in late April for all of its customers on a 'ongoing, daily basis' without giving specific parameters.
Because of the lack of distinction, it means that the phone records are not just being collected for suspected terrorists, but the company's entire consumer base.
The only restriction set forth in the order seems to be the duration of the exchange. It was approved by the Foreign Intelligence Surveillance Court on April 25 and it denoted that it would only hold water until July 19, so just shy of three months.
Verizon is believed to have nearly 150million customers across the U.S., all of whom could potentially be affected by the controversial court order.