Hamas has rounded up scores of Fatah activists in the Gaza Strip following a Monday rally that drew more than 200,000 supporters and ended in gunfire that killed seven people, officials said on Tuesday.
Islam Shahwan, spokesman of the Hamas-led Executive Force, said it had detained about 50 Fatah members since the rally.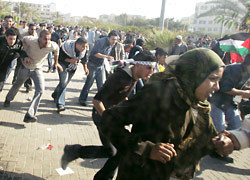 ©n/a
Fatah supporters running for cover during clashes at Monday's major Gaza rally in honor of Yasser Arafat.