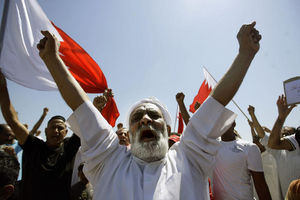 Manama, Bahrain - Bahrain's opposition asked for UN and American intervention in the government crackdown on the Shiite protests trying to loosen the monarchy's grip, in a brief protest Sunday in the capital that disbanded before police could arrive to break it up.
The 18 opposition legislators protesting Sunday at the UN offices in Manama resigned last month to protest the crackdown on the month-long revolt, inspired by the pro-democracy uprisings across the Arab world. Bahrain's king declared martial law last week, and a Saudi-led military force from other Gulf nations is in the country to back the Sunni monarchy.
In the five-minute protest, the lawmakers appealed to the UN to stop the violence against protesters and mediate talks between the opposition and the monarchy; they asked the U.S. to pressure the Gulf force to leave.
"They should return home. There is no need for them to be here since this a political, not a military problem," said Jassim Hussein, a former parliament member of Bahrain's largest Shiite group Al Wefaq.