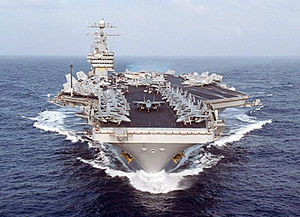 UN security council expected to pass resolution calling for states to protect Libyan civilians as Gaddafi threatens counterattack
British, French and US military aircraft are preparing to protect the Libyan rebel stronghold of Benghazi after Washington said it was ready to support a no-fly zone and air strikes against Muammar Gaddafi's forces.
Jets could take off from French military bases if a no-fly zone is approved in a fresh United Nations security council resolution authorising "all necessary measures short of an occupation force" to protect civilians.
France, which has led the calls for a no-fly zone along with Britain, has offered the use of military bases on its Mediterranean coast about 750 miles from the Libyan coast. Several Arab countries would join the operation.
The finalising of military preparations came as Gaddafi's forces closed in on Benghazi and issued a strong warning that it would target all maritime traffic in the Mediterranean if it is targeted by foreign forces. In a statement broadcast on Libyan television the defence ministry said: "Any foreign military act against Libya will expose all air and maritime traffic in the Mediterranean Sea to danger and civilian and military [facilities] will become targets of Libya's counterattack." "The Mediterranean basin will face danger not just in the short-term, but also in the long-term."