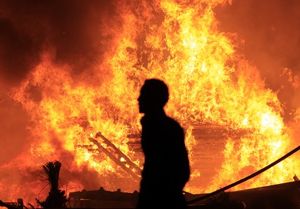 When watching the riots in Tunisia and Egypt, the question on everyone's mind is, what outcome will these organic and popular uprisings will produce?
The world may be witnessing a new dawn in the Middle East fostered by enlightenment or a new Egyptian government trailing behind Syria as the latest conquest the Mullahs of Iran can claim is the result of their wise policies.
With Hezbollah's latest dismantlement of a Lebanese government, aided by the complicity of the Assad regime and an Egypt whose future remains uncertain, it is essential for US and European policy makers to view Syria as a clear and present danger rather than the country stabilizing the region. No matter what happens, Egypt is a changed country. If it falls in the "L" column, Syria and Iran will play an essential role in supplying Egypt, as they did to Hezbollah, with the necessary tools to destabilize North Africa. This outcome will place a heavy military burden on Israel, the result of which may engulf the region with intermittent wars for many years to come.
As the world watches images of Egypt erupting, similar images are being reproduced in Syria. We have witnessed today many demonstrations in Damascus, Aleppo, and Qamoshli. With 10,000 IRGC (the Army of the Guardians of the Islamic Revolution) personnel residing permanently in Syria, we also witnessed them, mixed with Syrian Army Battalions, deploy in several cities around the country. Yet, the international media, and al-Jazeera especially, have gone dark on Syria.