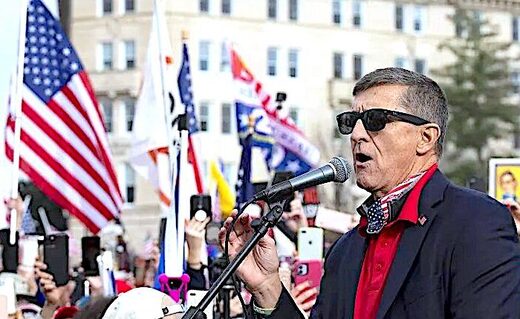 Michael Flynn is pushing an
evidence-free conspiracy theory
that
claims COVID-19 was released by a mysterious group of "global elites"
who may be preparing to "impose" a new virus on the world.
Flynn, best known for a short stint as former President Donald Trump's national security adviser, made the remarks during a recent interview on
The Alex Jones Show
. Flynn told host Alex Jones that there would be a planned surge of COVID-19 despite sleuthing by "digital warriors" having uncovered the "truth" about the virus, although no credible evidence that would prove the sinister plot has been publicly presented anywhere.
Flynn said:
"We're going to see an uptick in other aspects of the COVID. There might even be another form of a SARS that's imposed on the international system ... because their little plan with COVID didn't work because too many people in the world of what I call the digital warriors, or the citizen journalists that are out there, they are fighting for the truth.

"The truth has been exposed about all the COVID tyranny that we are facing. So, I think what we're gonna see is potentially another type of virus that's imposed on the public. And I hope that that's not the case, but I've seen some indications of that in some of the statements by some of these global elite type of people."
Beyond creating "COVID tyranny," Flynn did not indicate what was the ultimate goal of the supposed elites involved in the pandemic-creating plot. He also predicted that
the country's economy would soon be plunged into an intentional "controlled depression" and that the government would "shut down" all communications,
although he conceded that "these are the worst-case scenarios."