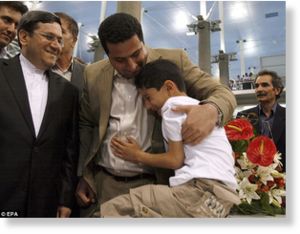 Returning home to a hero's welcome, this is the Iranian scientist who claims he was abducted by the CIA and pressured to lie about Tehran's nuclear programme.
Shahram Amiri had an emotional reunion with his family in Tehran yesterday, his seven-year-old son barely leaving his father's side. Amiri appeared to be wiping away tears in some photographs.
Amiri, 32, claimed he had been offered $50million by the U.S. to remain in America and 'spread lies' about Iran's nuclear work.
He repeated that he was kidnapped in 2009 when on a pilgrimage in Saudi Arabia and taken to the U.S.
The scientist also said Israeli agents were involved in interrogating him.