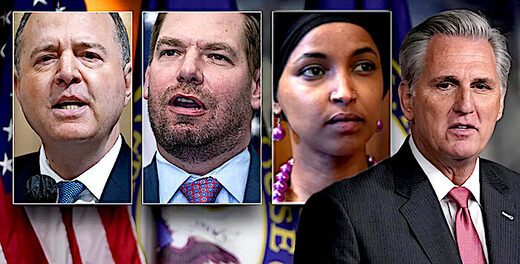 Rep. Eric Swalwell
, D-Calif., vowed that he and two other House Democrats do not plan to go away, despite not being reappointed by House Speaker Kevin McCarthy to committees they historically served on, adding the speaker's decision was "purely about political vengeance."
During a press conference on Wednesday, Swalwell and Reps. Ilhan Omar, D-Minn., and Adam Schiff, D-Calif.,
responded to McCarthy's decision
to not reappoint the three legislators to their committees.
Swalwell said:
"Even though we have said publicly, 'These smears are bringing death threats against us,' he continues to do it, which makes us believe that there's an intent behind it. But we will not be quiet. We're not going away. I think he'll regret giving all three of us more time on our hands. But at the end of the day, our mission now is to restore the credibility and integrity of this institution of which the speaker has so gravely, so gravely smashed and destroyed."