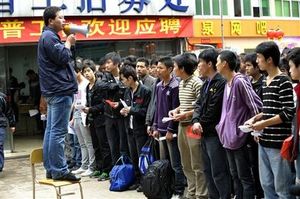 A Chinese employee of Foxconn Technology Group jumped from a building to his death Tuesday, state-run media said, in the
10th suicide this year
at the world's largest contract maker of electronics, such as the iPod, Dell computers and Nokia phones.
Police said Li Hai, 19, killed himself after working at the plant for only 42 days, the official Xinhua News Agency reported. Foxconn did not immediately comment on the death.
The suicide is the ninth at Foxconn's massive plant in the southern city of Shenzhen, which employs more than 300,000 people. Two other workers have tried to kill themselves by jumping from buildings in Shenzhen but they survived. Another suicide occurred at a smaller plant in northern Hebei province in January.
Labor activists say the string of suicides back up their long-standing allegations that workers toil in terrible conditions at Foxconn.
They claim shifts are long, the assembly line moves too fast and managers enforce military-style discipline on the work force.