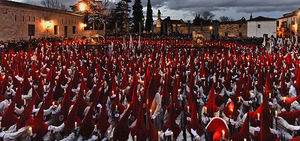 Los Angeles - A 1963 letter to then-Pope Paul VI indicates the Vatican was aware of clergy abuse in the U.S. nearly five decades ago.
In the letter, obtained by The Associated Press on Wednesday, the head of a Roman Catholic order that oversaw treatment of pedophile priests tells the pope he recommends removing pedophile priests from active ministry.
The letter is a summary of the Rev. Gerald M.C. Fitzgerald's thoughts on problem priests that appears to have been requested by the pope after Fitzgerald's 1963 visit to the Vatican. Fitzgerald headed the New Mexico-based Servants of the Holy Paraclete.
The letter was among several hundred pages of Paraclete documents given to the AP by attorneys for California clergy abuse victims who obtained the document during litigation. The documents were first made public last year after attorneys pursuing clergy abuse claims in Los Angeles got them unsealed.
A message left with the Paraclete was not immediately returned.