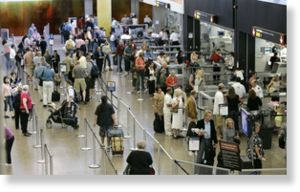 More than 10 percent of the TSA's identification badges have errors that could compromise airport security, a new audit has found.
Omissions and inaccuracies ranging from birthdates and birthplaces to incorrect assessments of security threats abound in identification badges assigned to the approximately 900,000 people who have unescorted access to secure areas of airports, according to a report from the Department of Homeland Security inspector general.
"The safety of airport workers, passengers, and aircraft is at risk due to the vulnerabilities in the airport operator badging process," the
report
said.