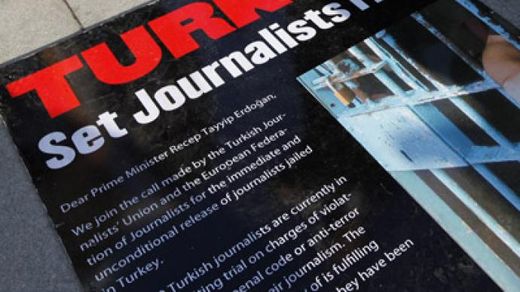 As the situation in Syria intensifies, its neighbor Turkey, which is at the frontline of the offensive against President Assad's government, is being dubbed as the world's leading jailer of journalists by a New York - based media watchdog.
­The latest investigation says that 76 journalists were detained in Turkey as of August 1, 80 per cent of which were imprisoned as a direct result of their work. The remaining 20 per cent of the cases are still being investigated by the Committee to Protect Journalists (CPJ) workers. The report also claims that three-quarters of jailed journalists have not yet been convicted of any crime but are held while they await
"resolution of their cases."
The findings claim that
"the Turkish government is engaging in a broad offensive to silence critical journalists through imprisonment, legal prosecution and official intimidation,"
as 70 per cent of those in jail were Kurdish and the rest being accused of participating in plots against the government, or membership of outlawed organizations.