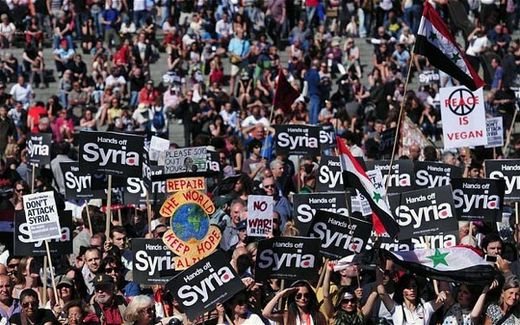 A big protest gathering has been in London to highlight huge popular opposition to Britain's military intervention in Syria.
Protesters chanted slogans against war and
urged the government to learn lessons from the experiences of lies and deception circulated to justify the illegal invasion of Iraq in 2003.
The overwhelming majority of the population who attended Saturday's protest voiced strong opposition to an invasion of Syria based on U.S.-led attempts to proclaim the popular government of President Bashar al Assad in Syria of using chemical weapons against its own people in Ghouta.
Various speakers from the Stop the War Coalition (STWC) hailed the British parliament's vote against an invasion of Syria as a "victory".
STWC convenor Lindsey German, lauded the vote saying "it was a victory in parliament. It was a vote that the politicians should have had the guts to hold 10 years ago and they didn't."
German described STWC's objective as to remind British imperialism of its national interests.
"We've said for some years that one of our aims as a movement should be to break Britain from following the US in every step of its foreign policy," she said. "This week we made that possible".