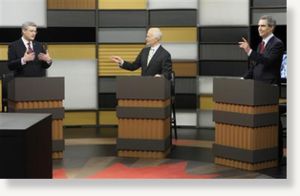 Canada's three opposition leaders accused Prime Minister Stephen Harper of incompetence and deceit during an election debate on Tuesday as they sought to cut into the ruling Conservative Party's big poll lead.
Public opinion surveys strongly suggest the right-of-center Conservatives, who have been in power since early 2006, will win a third consecutive term in the May 2 election -- the fourth in less than seven years.
The opposition brought down the minority government in late March, saying it had hidden its spending plans from Parliament, was tainted with sleaze and had botched the job of helping the economy recover from the global crisis.
Harper, who was on the defensive for most of the debate but did not appear to suffer serious damage, said the opposition had provoked what he called an unnecessary election at a time when Canadians should be focusing on the economy.
The televised two-hour English-language exchange had been seen a crucial chance for Michael Ignatieff, leader of the main opposition Liberal Party, to improve his image. The Conservatives have run a series of attack ads portraying the former broadcaster and academic as an elitist.