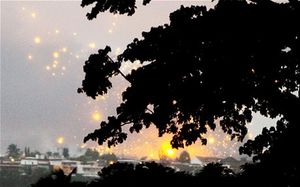 The UN air strikes in Ivory Coast suggest Libya was no fluke: the West's appetite for military action has recovered robustly from the diplomatic trauma of the Iraq war.
After a brief honeymoon following the successful mission to protect Kosovo in 1999, it seemed the Blairite era of "liberal interventionism" had been buried along with tens of thousands of Iraqi civilians.
The chaos after the steamrollering of the UN Security Council by Tony Blair and George W. Bush in 2002-03 seemed likely to usher in a new period of isolationism.
Barack Obama swept to power in 2008 on a wave of anti-war sentiment, while David Cameron entered Downing Street last year insisting that the West "can't drop democracy from 40,000ft".
Yet the past three weeks have found the council - this time with a less noisy Anglo-American wing - willing to pass stunningly powerful resolutions allowing missile strikes against murderous leaders.
Comment: It's rather simple really: psychopaths rule our world.