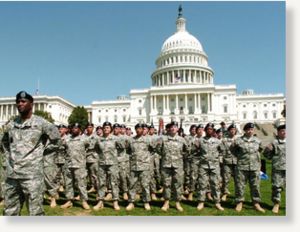 The Department of Defense released this statement from Deputy Secretary of Defense William J. Lynn III:
"The department remains hopeful that a government shutdown will be averted. The President has made it clear that he does not want a government shutdown, and the administration is working to find a solution with which all sides can agree. However, prudent management requires that we plan for an orderly shutdown should Congress be unable to pass a funding bill before our current funding expires on April 8.
"The President and the secretary know that the uncertainty of the current situation puts federal employees in a difficult position, and are very much aware that a shutdown would impose hardships on our military and civilian personnel as well as our military families. As we approach the expiration of the current continuing resolution, we will provide you with updated information as soon as it becomes available. For now, I want to provide you with information on how the potential shutdown - should it occur - will impact our military and civilian personnel.