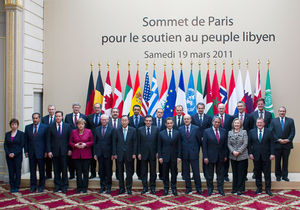 Outright lies by the international media: Bombs and missiles are presented as an instrument of peace and democratization...
This is not a humanitarian operation. The war on Libya opens up a new regional war theater.
There are three distinct war theaters in the Middle East Central Asian region. Palestine, Afghanistan and Iraq.
What is unfolding is a fourth US-NATO War Theater in North Africa, with the risk of escalation.
These four war theaters are functionally related, they are part of an integrated US-NATO military agenda.
The bombing of Libya has been on the drawing board of the Pentagon for several years as confirmed by former NATO commander General Wesley Clark.
Operation Odyssey Dawn is acknowledged as the "biggest Western military intervention in the Arab world since the invasion of Iraq began exactly eight years ago." (
Russia: Stop 'indiscriminate' bombing of Libya
- Taiwan News Online, March 19, 2011).
This war is part of the battle for oil. Libya is among the World's largest oil economies with approximately 3.5% of global oil reserves, more than twice those of the US.
The underlying objective is to gain control over Libya's oil and gas reserves under the disguise of a humanitarian intervention.
The geopolitical and economic implications of a US-NATO led military intervention directed against Libya are far-reaching.
"Operation Odyssey Dawn " is part of a broader military agenda in the Middle East and Central Asia which consists in gaining control and corporate ownership over more than sixty percent of the world's reserves of oil and natural gas, including oil and gas pipeline routes.
With 46.5 billion barrels of proven reserves, (10 times those of Egypt), Libya is the largest oil economy in the African continent followed by Nigeria and Algeria (Oil and Gas Journal). In contrast, US proven oil reserves are of the order of 20.6 billion barrels (December 2008) according to the Energy Information Administration.
U.S. Crude Oil, Natural Gas, and Natural Gas Liquids Reserves
).