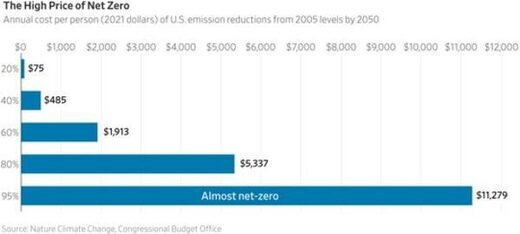 Politicians across the world routinely promise unprecedented reductions of carbon emissions but make little mention of the cost, often covering with vivid projections of green jobs.
Yet the economic damage these policies would do is much greater than what most voters would tolerate, while the climate benefits are smaller than many would imagine.
The annual cost of the promises to which President Obama signed on under the Paris climate agreement
would have hit
roughly $50 billion in 2030, or
about $140 per person
. Many studies show Americans are willing to pay a couple of hundred dollars a year to remedy climate change, but this data is highly skewed by a small minority willing to spend thousands of dollars. A recent
Washington Post
survey
found that a majority of Americans
would vote against a $24 annual climate tax on their electricity bills
. Even if they'd hand over $140, it'd buy them little. If Mr. Obama's agreement were sustained through 2100, it would reduce global temperatures
by a minuscule 0.06 degree Fahrenheit
.
President Biden is pushing much stronger climate policies with much higher price tags. Before his election, he promised to spend $2 trillion over four years on climate policies —
equivalent to $1,500 per person per year
. And Mr. Biden's current promise — 100% carbon emission reduction by 2050 — will be
even more phenomenally expensive
.