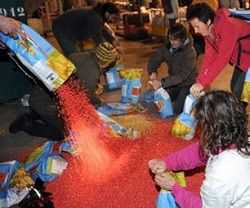 Amid mass US protests against Monsanto yesterday, France imposed a temporary moratorium on the planting of Monsanto's genetically modified corn, MON810.
"Due to the proximity of the planting season," said Agriculture Minister Bruno Le Maire along with Francois Fillon, Minister for Ecology and Sustainable Development, in a press release on Friday, authorities "decided to take a precautionary measure to temporarily prohibit the cultivation of maize MON810 on the national territory to protect the environment."
­All prior plantings of MON810, trade name YieldGard, become illegal on March 20.
Headquartered in St. Louis, Missouri, Monsanto announced in January that it would not sell genetically modified corn in France due to public opposition.