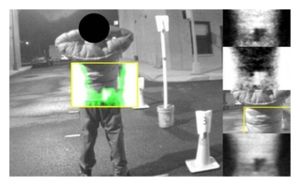 If you think your privacy feels violated by
TSA
agents whenever you get randomly selected for a pat down or body scan, well, get ready for this: drive-by friskings by the New York Police Department.
NYPD announced this week that they are developing a new portable device to detect concealed weapons or explosives on possible perpetrators. The device uses infrared rays to scan a person's body and provide officers with a digital outline of any concealed weapons.
"If something is obstructing the flow of that radiation -- for example, a weapon -- the device will highlight that object," NYPD Commissioner Raymond W. Kelly said at the Police Foundation's State of the NYPD breakfast, according to the
New York Times.
"This technology has shown a great deal of promise as a way of detecting weapons without a physical search."