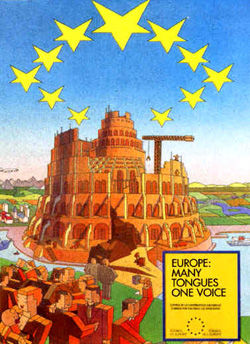 While questions remain about the existence of a single global elite with an agenda that goes beyond simply keeping itself very, very rich, there are certainly groups that want to run the world for quite other reasons. And with the increasing globalisation of political and economic institutions, it has become easier for a relatively small group to inveigle itself into quite staggeringly influential positions. One cabal in particular reveals - alarmingly - what a small group, driven by a fanatical belief system, can achieve from the shadows. And writing as we are in the United Kingdom, this group is on our doorstep, and has been for over a century. And although perhaps small in number, its reach is big.
Our research into this subject - detailed in
The Stargate Conspiracy
(1999) and
The Sion Revelation
(2006) - demonstrated that every major step in the development of the European Union from a simple trading body to a borderline superstate can be traced back to a very specific ideology, which upholds rule by an elite from behind the scenes. But this isn't just about politics. Astonishingly, this ideology is also about mysticism and magic.
This shadowy politico-occult movement is synarchy, which was developed by the Frenchman Joseph Alexandre Saint-Yves, the Marquis d'Alveydre, in opposition to the rise of anarchy in the second half of the nineteenth century. To him the ideal synarchist state would be a rigid social hierarchy topped by an elite that is predestined to rule - absolutely at odds with the then emerging concepts of democracy, individual liberty and social mobility.
Central to Saint-Yves was the creation of a united Europe, a call for which appears on the first page of his first book on synarchy,
Keys to the East
(1877). He believed that his perfectly balanced society reflected deep cosmic laws, with which his elite perfectly resonated. They are also directly guided by the powers that rule the universe - as he believed himself to be.