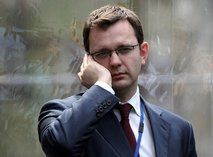 The British prime minister's powerful spin doctor resigned Friday amid claims he sanctioned widespread illegal phone hacking against politicians, celebrities and royalty when he was editor of a top-selling tabloid newspaper.
Andy Coulson denies any knowledge of the hacking, but admitted he'd committed a cardinal sin for a back room operator - he became the story.
Coulson said "continued coverage of events connected to my old job at the
News of the World
has made it difficult for me to give the 110 percent needed" in his role as Downing Street communications chief.
"I stand by what I've said about those events but when the spokesman needs a spokesman, it's time to move on."
A reporter and a private investigator working for the
News of the World
were caught illegally eavesdropping on the phones of the British royal family's entourage in 2007. Coulson quit the paper when the pair were convicted, but says he knew nothing of the hacking.
His resignation is a blow to Prime Minister David Cameron, who has resisted calls to fire Coulson despite the scandal.