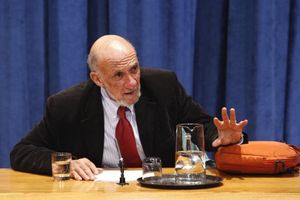 Mention Richard Falk and you think of an honourable man who cares deeply about injustice, particularly the trampled rights of Palestinians under the evil jackboot.
The BBC reported in December 2008: "During her stint in the Clinton White House, she was described as 'brilliant' but also 'authoritarian' and 'brash'. According to the
New York Times
, she acknowledges 'a certain impatience at times'."
She is also said to be "unwilling to consider opinions that differ from her own".
Ambassador Rice has just demanded that Falk, the UN Human Rights Council's special rapporteur in the Palestinian territories, step down from his UN position. "In my view, Mr. Falk's latest commentary [an entry in his blog about the media and 9/11] is so noxious that it should finally be plain to all that he should no longer continue in his position on behalf of the UN."