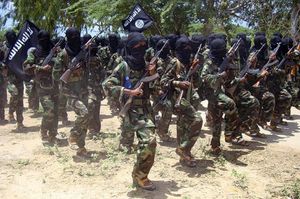 British security analysts fear that the militant Islamic Somali group Al-Shabaab, which has admitted to carrying out acts of terrorism, may attack the London Olympic Games. The military and its secret services count on the media to "set the agenda" (Chatham House)
1
and to "shape perceptions" (Ministry of Defence).
2
It is not surprising, then, that the government's terrorism claims are repeated uncritically by the media, which specialise in "white propaganda" (an official term for establishment messages).
3
In reality, Al-Shabaab was infiltrated by old MI6 assets long ago, and its foreign forces are recruited and trained by MI5 agents (see below). If there is an attack on the Olympic Games carried out by Al-Shabaab, it will almost certainly be a false-flag designed to propel a war-weary public into supporting yet more bloodshed in the Pentagon's quest for Full Spectrum Dominance.
4
With one million Somalis dependent on Red Cross food aid (and not by accident), a British-led invasion could lead to mass starvation.
Shell and BP have long-standing oil contracts in Somalia, which the country's socialist Islamic Courts Union jeopardised by permitting Chinese and Russian prospecting.
5
A Chatham House study sponsored by BP recommended that because "Voters will not actively call for a more effective foreign policy," the unelected Tory-Liberal government "should define its international mission as managing risks on behalf of British citizens."
6