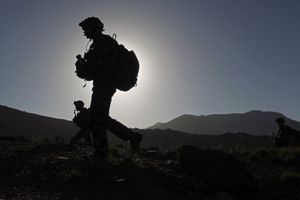 A French soldier was killed and four others were injured in an "accidental explosion" in eastern Afghanistan, French Defence Minister Gerard Longuet said Thursday.
The blast occurred in the south of Kapisa province, Longuet said in a statement.
The victim was the 58th French soldier to die since Paris deployed troops to join the NATO international force in Afghanistan in 2001.
Injuries to the four other soldiers were not life-threatening, the statement added.
The statement said that on Wednesday "an accidental explosion of a munition mortally wounded one soldier and injured four others of the same regiment who were getting ready to board an armoured vehicle in the south of Kapisa."
The injured were treated in a military hospital in Kabul, it added.
Around 4,000 French soldiers are deployed to Afghanistan mainly in the district of Surobi and Kapisa province in the east of the country.