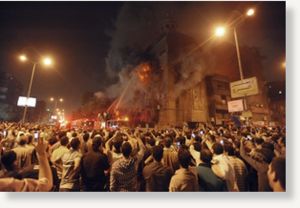 Mobs set two churches on fire in western Cairo during clashes between Muslims and Christians triggered by rumors of an interfaith romance that left 10 dead in some of the worst sectarian violence since the ouster of the president in a popular uprising.
Egypt's prime minister canceled his visit to the Gulf on Sunday, and called for an emergency Cabinet meeting to discuss the violence, according to the state news agency.
Saturday night's clashes were sparked by rumors in the low-income neighborhood of Imbaba that a Christian woman married to a Muslim had been abducted and was being held in one of the churches against her will.
The report, which was never confirmed, spurred a mob from the ultraconservative Salafi trend of Islam to march on the Saint Menas Church. Christians barricaded themselves inside and around the church and the demonstrations turned violent. Gunfire sounded across the neighborhood, and witnesses said people on rooftops fired into the crowd.
Muslims accused Christians of starting the shooting, and large crowds instigated by the local Salafi religious leaders converged on the area. They lobbed fire bombs at homes, shops and the church, setting its facade on fire.