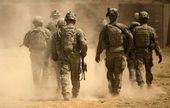 A little noticed provision in the House Armed Services Committee's National Defense Authorization Act would authorize the United States to use military force anywhere there are terrorism suspects, including within the U.S. itself, according to the
American Civil Liberties Union
.
Section 1034 was added to the bill [PDF] by the committee's chairman, Rep. Buck McKeon (R-CA).
"Congress may soon vote on a new declaration of worldwide war without end, and without clear enemies," the ACLU warned in a statement. "A 'sleeper provision' deep inside defense bills pending before Congress could become the single biggest hand-over of unchecked war authority from Congress to the executive branch in modern American history."
The only opposition to the provision has come from Rep. John Garamendi (D-CA), who offered an amendment to strike Section 1034 while the House Armed Services Committee was reviewing the bill. The committee passed the National Defense Authorization Act by a 60 to 1 vote -- without the proposed amendment -- with Garamendi as the sole dissenter.