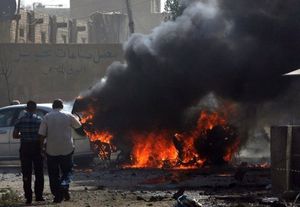 Baghdad - A bomb exploded next to a French embassy car in south Baghdad on Monday wounding seven Iraqis, but four French security personnel inside the armoured vehicle escaped unhurt, the embassy and Iraqi sources said.
The embassy told AFP the bomb exploded as a single armoured car with four French guards on board was passing, but an interior ministry official said the improvised bomb was aimed at a French convoy and that four Iraqi guards protecting it were wounded, together with three passers-by.
"The bomb targeted a passing French diplomatic convoy. Four Iraqi guards protecting the convoy were hurt, and three people passing by were also wounded," the interior ministry official told AFP immediately after the explosion.
A medical source at Ibn Nafis hospital said it had received seven wounded Iraqis, among them four guards.
The bomb struck near the French ambassador's residence in the Mesbah district of southern Baghdad, and an embassy vehicle damaged by the explosion was left at the site, an AFP journalist said.
"A single armoured vehicle carrying four French embassy guards was damaged by a roadside bomb at 8:17 am (0517 GMT)," said Denis Gauer, the French ambassador who recently arrived in Baghdad to take up his post.