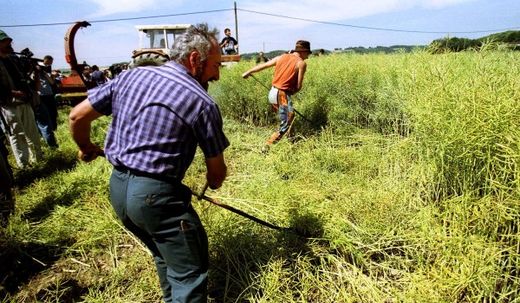 Does genetic modification lead to more and better crops? Or will it destroy the foundations of our food systems?
Two weeks ago, Monsanto
announced
the latest genetically engineered crop it hopes to bring to market: a soybean rejiggered to resist the herbicide dicamba. The new product, says Monsanto, will aid in weed control and "deliver peace of mind for growers."
Meanwhile, half a world away, La Via Campesina, a farmers' movement of 150 organizations from 70 countries, had a slightly different idea about what would bring peace of mind to its millions of members: protecting biodiversity. In its
statement
to those gathered in Bali for the United Nations treaty on plant genetics, the organization urged treaty drafters to reevaluate the legal framework that allows seed patenting and the spread of genetically engineered crops, like those Monsanto soybeans. These genetically modified crops and the international patent regime, La Via Campesina said, block farmers' ability to save and share seeds, threatening biodiversity and food security.