Will remain tiny compared to inventory of obsolete crap
The UK expects to double its fleet of "Reaper" robot hunter-killer aircraft, according to the machines' manufacturer.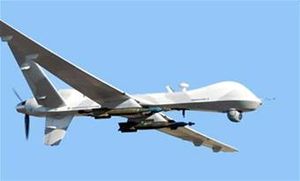 General Atomics, which developed the famous Predator drone warplane and its bigger successor the Predator-B/Reaper, announced last week that it is opening a new office in London to support the British Reaper fleet. The company says that it has thus far supplied six of the robot aircraft to the UK forces - though one of these crashed and was
destroyed in Afghanistan
three years ago.
The company announcement adds that the UK Reaper fleet is "expected to nearly double in size over the next few years". Presumably this might indicate that the Ministry of Defence (MoD) expects to field as many as ten roboplanes in the near future.