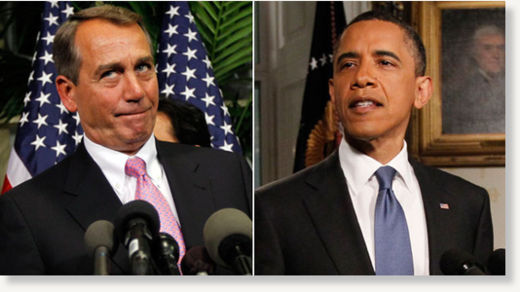 Racing the clock, in a long day of trading offers, the White House and Speaker John Boehner reached agreement Friday night on a budget framework that would cap 2011 appropriations just under $1.050 trillion while cutting domestic and foreign aid by more than $40 billion from the rate of spending at the beginning of this Congress.
The deal - which was only sealed after Boehner
presented the outline
to a closed door Republican Conference -
averts
what would have been an unprecedented wartime shutdown of the government that had become a growing embarrassment for himself and President Barack Obama.
Down to the end, Boehner was still pressing for a lower top line when Obama called him in the early evening. Both men later cast the agreement as the best available, but the grueling, often distrustful process testified to how tough this legislative year will be and the immense pressure on the speaker from the right.
The administration largely succeeded in blocking the most controversial policy riders impacting the environment and abortion-rights. But the cut is one of the single
largest in history
, and a preview of what lies ahead when Republicans move their 2012 budget plan next week and fight with Obama over raising the debt ceiling in May and June.
"Like any worthwhile compromise, both sides had to make tough decisions and give ground on issues that were important to them," Obama said. "And I certainly did that."