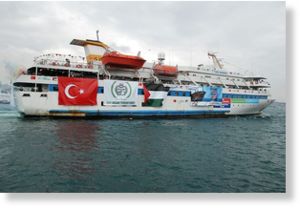 Israel has decided not to apologize to Turkey for last year's deadly raid on a Turkish protest flotilla bound for Gaza ahead of a United Nations report on the episode scheduled to be published early next week, according to a senior Israeli official.
Turkey has demanded an official apology, compensation to victims' relatives and a lifting of the blockade on Gaza as conditions for normalizing its heavily strained relations with Israel, formerly an important ally.
The Obama administration is keen to see Israel and Turkey repair relations and has been urging Israel to apologize.
A diplomatic source, speaking on condition of anonymity because of the delicacy of the subject, said the American request for such an apology was reiterated on Tuesday in a phone call between Secretary of State Hillary Rodham Clinton and Prime Minister Benjamin Netanyahu.
The Israeli official, who also spoke on condition of anonymity, said the Turks kept adding conditions for a reconciliation, raising uncertainty in Mr. Netanyahu's government over whether they were sincere and whether they would consider the case closed even if a deal were reached.