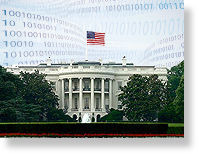 A White House terrorism strategy released today says Facebook, Twitter, and other social networks aid in "advancing violent extremist narratives" and should be monitored by the government.
The 12-page strategy (
PDF
), which outlines ways to respond to violent extremism, promises that: "We will continue to closely monitor the important role the Internet and social-networking sites play in advancing violent extremist narratives."
President Obama said in a statement accompanying the report that the federal government will start "helping communities to better understand and protect themselves against violent extremist propaganda, especially online."
While much of the White House document is focused on al Qaeda--which
The Washington Post
recently reported is on the "brink of collapse"--it also talks about domestic terrorists, neo-Nazis, anti-Semitic groups, and a broad "range of ideologies" that promote radicalization.