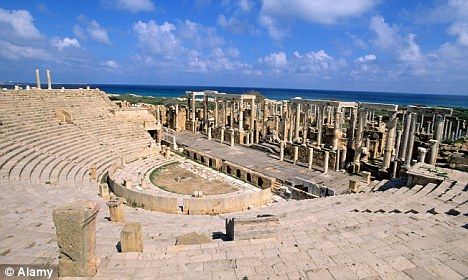 Nato has refused to rule out bombing Libya's ancient Roman ruins if Colonel Gaddafi is using them to hide military equipment.
Rebels in the divided country claim the under-pressure Libyan leader could be hiding rocket launchers at the UNESCO World Heritage site of Leptis Magna - which is between the capital Tripoli and rebel-held Misrata.
Wing Commander Mike Bracken, a spokesman for Nato's Libya mission, said it would be a concern for the alliance if Gaddafi and his forces were to violate international law and hide themselves in such a location.
According to CNN, he said: 'If we were to take on any targets we would consider all risks.'
However, he said that Nato could not confirm rebel concerns that weapons might be placed at the heritage site.