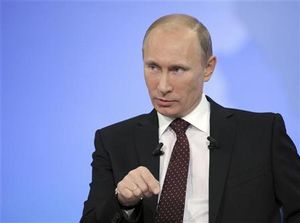 Russia's foreign minister on Wednesday defended his country's sale of arms to Syria and accused the United States of supplying rebels with weapons to fight against the government.
U.S. Secretary of State Hillary Clinton said on Tuesday Washington was worried Russia may be sending attack helicopters to Syria and described as "patently untrue" Moscow's argument that its arms transfers to Syria are unrelated to the conflict there.
"We are not violating any international law in performing these contracts," said Sergei Lavrov, in response to a question about Clinton's comments at a news conference during a visit to Iran.
"They are providing arms and weapons to the Syrian opposition that can be used in fighting against the Damascus government," he said on Iranian state television, speaking through an interpreter.
Russia is one of Syria's principal defenders on the diplomatic front and, as a permanent member of the U.N. Security Council with the power to veto resolutions, has stymied efforts by Western powers to pressure President Bashar al-Assad into stepping down.