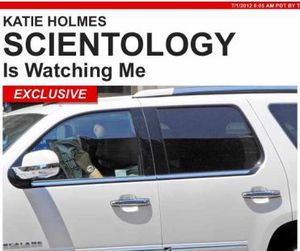 Worried Katie Holmes is convinced she is under surveillance by private investigators hired by Scientologists.
Two mystery men were first spotted allegedly keeping watch on her at Tom Cruise's New York home -
days BEFORE she filed for divorce from him
.
And when Katie and daughter Suri, six, moved to a secret apartment in the Chelsea district of the city, the creepy pair suddenly appeared outside.
A source said: "About three days before the divorce was announced a Mercedes SUV was sitting outside Tom's apartment in Greenwich Village.
"They were sat about a hundred yards from the house - a couple of suspicious-looking characters in sunglasses.