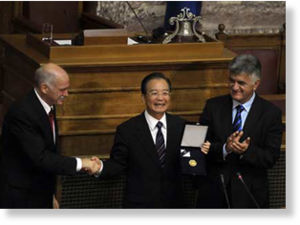 The embattled Euro has gotten a surprise boost from an unexpected quarter―China. The country with the world's largest foreign exchange currency reserves, China, has pledged to support Greek debt as well as the Euro in what is clearly a geopolitical decision. In doing so, China has signaled it seeks to prevent the US financial warfare attack on Europe and to play the EU off against the USA in a geopolitical chess game of a fascinating dimension.
Chinese Prime Minister, Wen Jiabao, on an unusual visit to tiny Greece, a country which normally would never warrant such a high-level visit from the world's fastest growing economic giant, has pledged support for Greece and for the Euro. According to the official Chinese Xinhua News Agency (and
China Daily
), "China supports Greece in firmly carrying out structural reforms and cutting its fiscal deficits to improve competitiveness. China welcomes the EU and the IMF's rescue package for Greece and stands ready to help Greece out of recession."