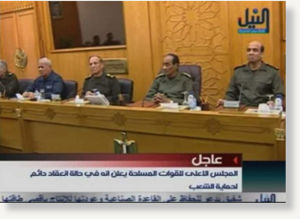 WASHINGTON - U.S. intelligence indicates "a strong likelihood" that Egyptian President Hosni Mubarak is on his way out and may step down as early as Thursday night, CIA Director Leon Panetta told Congress.
Panetta said he didn't know specifics, but said it seemed likely that Mubarak would turn over powers to his vice president, Omar Suleiman. Panetta made the comments in testimony before the House Intelligence Committee as Egyptian state TV said the embattled president would speak to the nation Thursday night from his palace in Cairo.
Committee Chairman Mike Rogers of Michigan asked Panetta about news reports that Mubarak was poised to relinquish power.
"I got the same information you did, that there is a strong likelihood that Mubarak will step down this evening, which will be significant in terms of where the hopefully orderly transition in Egypt will take place," the CIA director said. Panetta did not say how the CIA reached that conclusion.