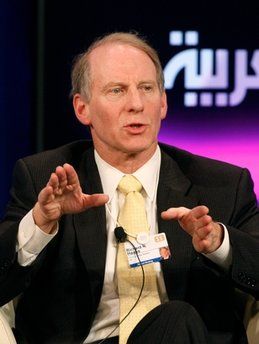 Davos, Switzerland - A diverse panel of decision-makers and experts from the United States, Europe and the Middle East found common ground on just one thing when it comes to dealing with the Iranian nuclear program Friday: A military strike could well spark a devastating counterattack.
In the debate at the World Economic Forum, former top U.S. diplomat Richard Haass said there were no good options should diplomacy fail, but stood apart from the others in advocating force as a viable option. He sparred repeatedly with Saudi Arabia's Prince Turki al-Faisal, who urged
the United States to instead pressure Israel to quit its own reported nuclear weapons as a way of coaxing Iran
to drop its suspected weapons program as well.
Haass replied that there was no time for this because of the speed of Iran's program - and rejected the assertion by Turkish Deputy Prime Minister Ali Babacan that
the program might be civilian, as Tehran has repeatedly claimed.
The Davos panel thus reflected the basic disagreement that divides world powers and bedevils diplomatic efforts: All seem to oppose Iran producing a nuclear weapon, but there are disagreements over whether to believe its protestations. And down the road lies the open question of whether war is worse than acquiescence.