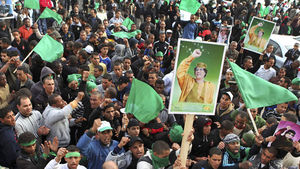 The truth has been turned on its head in Libya. NATO and the Libyan government are saying contradictory things. NATO says that the Libyan regime will fall in a matter of days, while the Libyan government says that the fighting in Misrata will end in about two weeks.
During the night the sound of NATO jets flying over Tripoli can be heard in the Mediterranean coastal city. Tripoli has not been bombed for a few days, but the sound of the flyovers have been numerous. The Atlantic Alliance deliberately picks the night as a means to disturb the sleep of residence in an attempt to spread fear. Small children in Libya have lost a lot of sleep during this war. This is part of the psychological war being waged. It is meant to break the spirit of Libya. This is all additional to the severing wound imposed on Libya through trickery and sedition.
In the same context, the media war against Libya has continued too. The Rixos Hotel in the Libyan capital of Tripoli, where the majority of the international press is located, is a nest of lies and warped narratives where foreign reporters are twisting realities, spinning events, and misreporting to justify the NATO war against Libya. Every report and news wire being sent out of Libya by international reporters has to carefully be cross-checked and analyzed. Foreign journalists have put words in the mouth of Libyans and are willfully blind. They have ignored the civilian deaths in Libya, the clear war crimes being perpetrated against the Libyan people, and the damage to civilian infrastructure, from hotels to docks and hospitals.