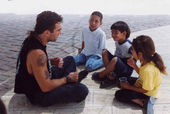 A Criminal website incites the killing of volunteers in Gaza. Vittorio Arrigoni is also in their sights. There should be investigation against Lee Kaplan.
The criminal website
stoptheism
invites people to kill the few volunteers who are providing health treatment in Gaza under Israeli bombs.
They are Americans, Spaniards, Australians, Italians and other volunteers who report us what news they can about the real impact of the Israeli aggression in Gaza.
Amongst them there is Vittorio Arrigoni, human rights activist.
What we have here is pure incitement to killing, furnished also with the photos of those "wanted".
It's really inconceivable that the site is still online.
We demand that the Italian Government and Foreign Office take steps right now to call for it to be immediately closed and to bring those responsible to court.