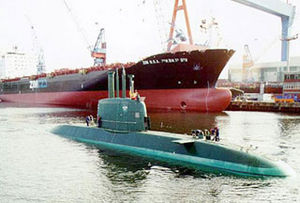 Ahead of an Israeli-German cabinet meeting in Berlin, media reports indicate that Israel intends to station one of its German-made Dolphin submarines in the waters of the Persian Gulf.
"Israel's use of the dolphin submarine in exercises in the Red Sea aroused fears that Israel may seek to maintain a continued presence in the Persian Gulf as soon as it receives its submarines form Germany in 2011-2012," the
Tagesspiegel
said on Sunday.
The meeting, delayed in November due to Israeli Prime Minister Benjamin Netanyahu's illness, is expected to focus on Israel's push to buy a sixth Dolphin-class nuclear submarine from the Germans.
During the day-long trip by the centre-right government, Netanyahu seeks to expand Tel Aviv's submarine fleet.
Israel has previously received three submarines
as a donation
form the government of the then German chancellor Gerhard Schroeder.