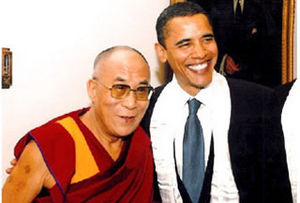 China has urged the US to immediately withdraw a decision on a meeting between American President Barack Obama and exiled Tibetan leader Dalai Lama.
China Foreign Ministry Spokesman Ma Zhaoxu on Friday fiercely protested against the planned meeting.
"China firmly opposes the Dalai Lama visiting the United States and US leaders' contacting with him," Xinhua quoted Ma as saying.
"We urge the US side to fully understand the high sensitivity of Tibet-related issues, honor its commitment to recognizing Tibet as part of China and opposing "Tibet independence."
Senior officials in Beijing have warned Washington against the meeting. The US has ignored Beijing's warnings, saying Obama will meet the Dalai Lama next week.