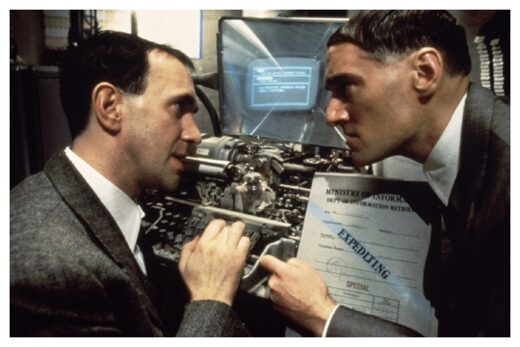 Some compare corona times to the novel
1984
, but I thought that perhaps Terry Gilliam's
Brazil
could be an even more apt comparison.
In that movie, the totalitarian nightmare is coordinated by
bumbling and incompetent bureaucrats, who nevertheless never give up in their indefatigable pursuit of more paperwork.
If there was one thing that this damn pandemic sure increased was bureaucracy. To travel, to meet people, or even to have a cup of coffee somewhere, anywhere, now you need to show your "papers" — or, at any rate, a QR-code in your smartphone.
I traveled to Italy during the "first wave" of the pandemic — or was it already the second? It's hard to recall, there were so many. At the time, the bureaucrats had invented some kind of contact tracing form that everyone needed to fill before boarding a plane, however there were four or five different forms available, and confusion reigned.
People weren't sure which form to fill or how to fill it, and in the end, no one at the airport even checked the forms.
The procedure has been streamlined, and now they certainly check all forms and digital passes, but the confusion has only increased.
Italians initially had a "Green Pass", then a "Super Green Pass"; now they seem to be inventing some kind of "Booster Green Pass", and yet, predictably, none of it is reducing cases.
It appears, go figure, that viruses and diseases are immune to paperwork.