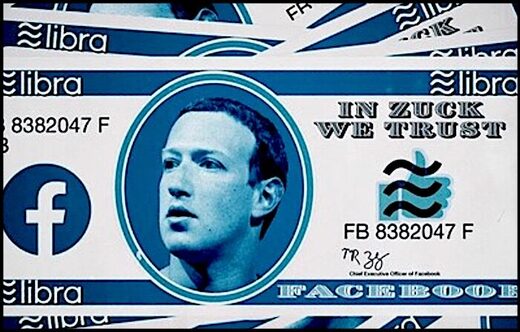 In the global imagination, Facebook would be a responsible social network that allows everyone to connect confidentially while censoring messages contrary to local laws.
In practice, it is quite different.
Facebook collects information about you for the NSA, censors your opinions and mints its own currency.
In a few months, this company has become one of the most influential players in world politics.
FACEBOOK AS A SOCIAL NETWORK
The most important political player on the Internet is the social network Facebook.
As of January 1st, 2021, it had
2.85 billion monthly active users and 1.88 billion daily active users worldwide.
The social network routinely censors posts that include nude photos, sexual activity, harassment, hate speech, forgeries, spam, terrorist propaganda or violence using particularly crude and unfair artificial intelligence. It shuts down accounts that it deems dangerous, either because they have been censored several times or because they are linked to enemies of the United States.
Facebook is a huge company that includes
Instagram, Facebook Messenger, WhatsApp, Oculus, Workplace, Portal, Novi.
It employs over 60,000 people.
FACEBOOK AS A BANK
Facebook now issues its own currency as a state,
the Libra.
It is backed by a basket of currencies composed of 50% dollars, 14% yen, 11% Serling pounds and 7% Singapore dollars [
1
].
By becoming a bank whose currency is progressively accepted by Internet sales sites,
Facebook is building a parallel economy, both virtual and global, that is larger than the economy of many states.