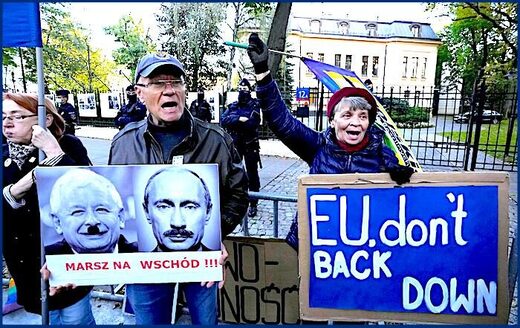 In a decision that sent shockwaves through Europe,
Poland's constitutional court on Thursday ruled the country's laws had supremacy of those of the European Union.
The long-awaited ruling says some parts of EU treaties and court rulings go against Poland's highest law.
Jakub Jaraczewski, research coordinator at Democracy Reporting, called the move a

"massive escalation of the crisis of the rule of law in Poland. This is unprecedented. We have an EU member state basically stating that the primacy of EU law, one of the core ideas of the European Union common legal order, is partially not effective in Poland. This has not happened before."
Laurent Pech, professor of European law at Middlesex University, compared the ruling to a
"nuclear strike on the EU legal order. As soon as the judgment is going to be published, Polish judges are going to have to choose between violating EU laws or disobeying the constitution. So if they do not violate EU laws, because they have a duty to apply EU rule of law standards under the treaties, then they are going to face disciplinary proceedings and possibly also criminal proceedings."
The Polish verdict drew strong condemnation from the EU's executive and the main parties in the European Parliament. The European Commission said the ruling "raised serious concerns" and suggested that
Warsaw could expect a strong response from Brussels.