Weapons inspector David Kelly was the decent man apparently hounded to suicide after exposing Tony Blair's lies on Iraq.
But the crusading MP Norman Baker felt sure there was something more to his death - and gave up his front-bench role to investigate the case.
In the Mail he revealed extraordinary evidence that he believes proves Kelly did not take his own life and was instead murdered by Iraqi dissidents. Here, he reveals how the murder may have been carried out . . .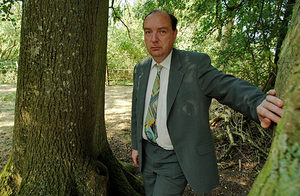 ©Daily Mail
Norman Baker at the spot where David Kelly was found dead