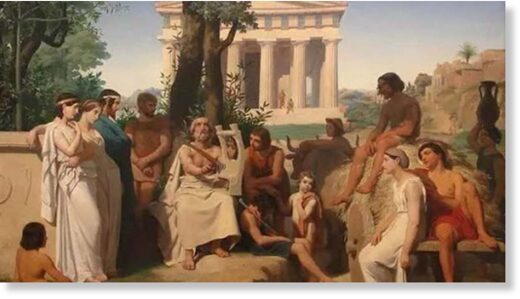 A Chinese professor claims that the Egyptian pyramids, the Parthenon, and other remnants of ancient civilizations in the West, were all faked by Western scholars in order to fabricate an ancient history, and diminish the glory of China.
Hong Kong News outlet
Hong Kong 01
is just one of many Chinese language media who reported on the farcical claims after Professor Huang Heqing broadcast one of his lectures live to the internet recently.
While ultranationalist conspiracy theories are not rare in China (or indeed, in any other country), what makes this story even more bizarre is that
Huang teaches in the School of Arts and Archeology at Zhejiang University - one of the oldest, most selective, and prestigious universities in China
.

Huang Heqing stated in his lecture that from the 19th to 20th centuries, the West was rampantly forging historical and cultural relics, and spending huge sums of money everywhere from the Mediterranean to India, fabricating fake ancient relics.
The Pyramids of Khufu, and the Great Sphinx of Giza, were made of concrete, and constructed in the 19th century, Huang claims.
"A well-known French chemist and material scientist conducted physical and chemical analysis on the Khufu pyramid in the 1980s, and confirmed that other than a small amount of natural stone, it mostly consisted of concrete," says Huang, referring to the controversial theories of
Joseph Davidovits
, who posits that the Egyptians built the pyramid using a limestone-based cement invented thousands of years before the Romans invented concrete.