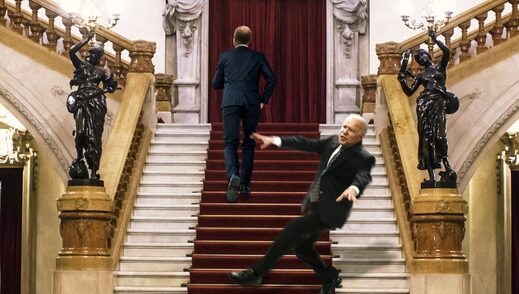 Vladimir Putin has challenged Joe Biden to a contest of wits, strength, and cunning: a stair-ascending contest. The winner of the contest will gain control of the other country.
"Stair-ascending contest, me and you, right now, let's go," said Putin as he met with the American president. "He who wins become supreme glorious leader forever of other puny weak man." Biden agreed to the contest, though it wasn't clear he knew who this man was or where they were.
"3... 2... 1... climb!" shouted the referee before firing off a pistol. Biden got off to a rocky start as he was startled by the gunshot and scurried off in the wrong direction. Putin, meanwhile, just walked up the stairs. Biden started gaining on him as his handlers corralled him and pointed him in the right direction, but he kept falling over and tumbling down the stairs.