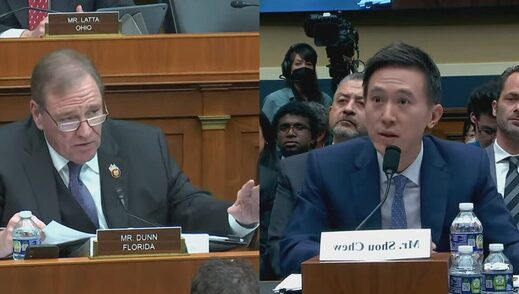 As TikTok CEO Shou Zi Chew faced questioning from the House Committee on Energy and Commerce on Capitol Hill, leaders from the United States government issued strong demands that TikTok stop spying on American citizens because that's the government's job.
"Stay off our turf!" Senate Minority Leader Mitch McConnell said to assembled members of the press. "How can the federal government be expected to effectively spy on all of our citizens if we've got this TikTok app and the Chinese Communist Party getting in our way trying to do the same thing? If anyone is going to be violating the privacy of the American people, it should be us!"
Concerns continue to grow that the social media video app is harvesting private data from millions of American users and funneling it to the Chinese government, a charge that the TikTok CEO vehemently denies. "The Honorable and Most Excellent President Xi told me to say we do not collect sensitive data from our users," said Mr. Chew when questioned. "We also do not know anything about Senator McConnell browsing for videos of female turtles in the middle of the night last Thursday. Any insinuation otherwise is simply paranoia!"
The White House was quick to weigh in on the controversy. "It is the policy of this administration to keep the spying on of American people here at home where it belongs," said Press Secretary Karine Jean-Pierre. "While he is hesitant to ban TikTok, President Biden vows to never outsource the violation of our citizens' privacy."
At publishing time, congressional leaders were setting up meetings with Big Tech firms to ask them to create a similar app that would allow the government to spy on citizens with homegrown, American-made products.